Tinder
One of the best benefits of the internet is that it made it possible to find and communicate with people who you share similar and even in some cases same tastes. Many applications and web sites have created in order to make people connected. Some of them included international relationships, some of them included national relationships and some of them included local affairs. Tinder is a result of one of these efforts. It has many user-friendly features and one of the best dating applications. It was released in 7 years ago in September 7, 2012 by the Tinder Inc. It was aimed to led people to meet strangers in local areas and firstly experimented on couple of campus with great success. It gained quick and great popularity in a few years and became one of the most used online applications. After two years of releasement, almost 2 billion swipes have done by users. Let's take a quick look what is Tinder offering to its users.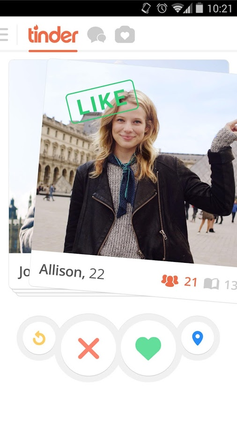 Backbone of the System
First of all, let us face the fact that finding a mate in your close environment is a very hard job. Main backbone of the Tinder is to provide that meetings. You can match with new people by liking each other on selective and unique system of the Tinder. You add your personal information like what are your hobbies, music taste, occupation and zodiac sign to attract attention. Select couple of attractive pictures of yourself from your phone's gallery, insert them to your profile and wait someone to like your traits. In case of match with someone, you can directly message them immediately without any payments. With this feature, the Tinder has given up massive amount of income that they can earn from in opportunist way and gained massive popularity. That popularity is the best advantage of the Tinder. No other dating applications could manage to reach this popularity so their matching chances significantly decreases. Over 100 Million people has already downloaded the application and currently using it. Its user friendly and simple interface aren't very tiring and easy to use. Anyone can quickly and directly interact with the people who the Tinder automatically selected to show to us. It totally helps you to get know each other with the people who you can easily get bonded with and you can improve your dating skills just by using some other features of the Tinder application.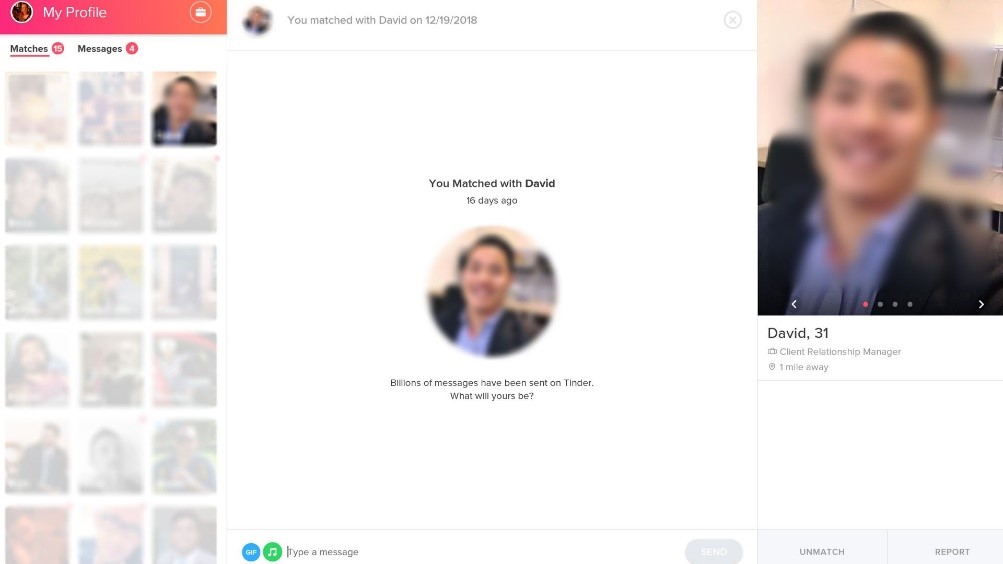 Features
Non-anonymous chatting can be counted as best feature of Tinder. Some other dating apps' anonymous chat system can be tiring sometimes because deepening relationship with the person who you talking to is very hard because of some trust issues. Most of us can't and, shouldn't, trust to people who are hiding their identity because we are on the internet and someone can be anyone simply by lying. You can change distance settings as well. If you can't reach to people who are away at this moment, then you can set your maximum distance to acceptable one and Tinder will show you people who set their maximum distance settings similar to you by automatically. You can purchase in-app features like Tinder Plus and Tinder Gold. Both of them providing almost same things like unlimited likes, retaking your last swipe, daily 5 super likes, 1 super boost a month, passport and no advertisement but Tinder Gold includes extra features like new daily Top Picks and chance of seeing who liked you before matching them. Also, the Tinder's picture algorithm helps you to increase your matching chances by rolling your pictures person by person and detecting which picture of you get more matches. After a while, application slowly starts to show your most-match-taking pictures to people. With the Noonlight feature, you can create emergency button before meeting with your match if you have any concerns and safe profiles get blue verification symbol on their profiles. Besides, its LGBTIQ+ support feature warns people if they entered into dangerous countries for their communities. Last but best, most of these features are free to use.
Tinder is available for Android and iOS systems for free.