Facebook Messenger
Chatting with friends who far away is good. In fact, we all want to keep in touch with our friends under any circumstances Before the invention of the internet, we have managed to do it by telecommunication methods like calls, SMS and MMS. They were very expensive and highly limited to use freely. They developed their services slowly day by day but couldn't manage to create efficient ways unlike the internet products. So many applications have been created by multiple initiatives. To make them more efficient and useful, many experimental features added to these apps. The Facebook Messenger is one of them. It was a feature of the Facebook application at first and you can't use it without main Facebook account but in April 2014, standalone version of messaging system of the Facebook released. It has developed and updated through time and evolved into an application with many other features.
Chat features
Chatting via Facebook Messenger is very easy to do. Its simple interface makes things a lot easier. You just need to open the application, click to text space and your keyboard will pop-up. After that, you write your text and click to send button, that's it! Of course, this is not the only task that Facebook Messenger can do. Developers added lots of new and interesting features to the application through time. For example, you can send encrypted message to start an encrypted conversation. If you have concerns about your privacy and want to be monitored by no one, including Facebook itself, Facebook Messenger can provide that privacy to you! You can set countdown on your sent message and it will destroy itself after the finish line of the count own that you set with no remains. You can also customize your conversations! Specify your close friends' conversation pop-up with three main aspects. First, you can change the color of text-background that you sent. You can give a nickname to your friend and you can set an emoji to that specific conversation tab as well! Enriching your convos with Scribble chat feature is possible. Scribble chat is an extension that turns your messages into 3D animations with 42 unique options. When you get bored from texting or when you have lots of thing to say, then you can use voice chat feature! You can record your voice for a minute and send them quickly to your friends. Video call can be counted as another option, too. With all of these, you can also send photos and videos from your gallery with one click to your loved ones! You are allowed to create group chats with friends or strangers within the application.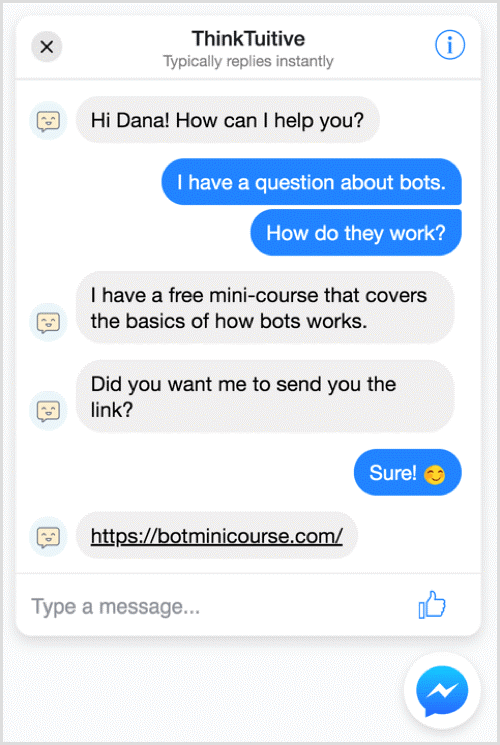 Other features
There are also other features in the application as well. For example, there are huge variety of in-app games in Facebook Messenger. Most of them are can be played with your friends. To illustrate game types within the application, let's take a look at the Quiz Planet game. It is some sort of turn-based question-answer game. You should answer a question on a chat tab and the application immediately sends a message and a notification to your friend. If your friend answers a question too, then the game will continue. Another feature is money transferring. Just link your debit card to the Facebook Messenger and you will be able to send and receive money from your friends. The application also offers highly secured transfer methods and privacy for your operations. Also, Facebook Messenger does not force you to pay charges to you while sending and receiving money. You can use bots as well. Simply by typing 'Get Started' you will have an access to the contents that dedicated by related organization like browsing collections of a clothing company, talking with customers services and get notifications of the events.
Facebook Messenger is available on iOS, Android and any computer browsers.